Book your tickets to Bratislava and…
be part of our global community of political, government, business, legal and NGO leaders
attend the ELSA Alumni General Assembly
enjoy the spirit of Bratislava with old and new friends
This Annual Meeting takes place with the friendly support from our event sponsors:



In 1981, the European Law Students' Association (ELSA) was founded in Vienna by four committed law students from Austria, Hungary, Germany and Poland. Since then, ELSA has grown to the largest independent law student's association in the world. ELSA is active in 44 countries and 432 law faculties and has over 60,000 members today.
ELSA Alumni connects the alumni of ELSA and is a global community of political, government, business, legal and NGO leaders.
The Annual Meeting will take place in Bratislava, Slovakia from 07 – 09 October 2022 and will acknowledge the shared responsibility of ELSA International and ELSA Alumni to promote a just world in which there is respect for human dignity and cultural diversity underpinned by the rule of law. The event is – typical for ELSA – aimed at facilitating successful substantive and personal networking between active people at universities and active people in professional life, Europe's current and future leaders.
We are looking forward to welcoming you to Bratislava. The main purpose of the Annual Meeting is to bring together ELSA students and Alumni members all over Europe to build networks and to contribute to discussions about how to improve our network.
PRICES: Cost are adjusted to our different membership categories, which are the Career Starters, Young Professionals and Senior Professionals: https://elsaalumni.org/join-elsa-alumni/#membership-categories. Career Starters pay 165 EUR (members just 145 EUR), Young Professionals 205 EUR (members just 165 EUR) and Senior Professionals 265 EUR (members 185 EUR).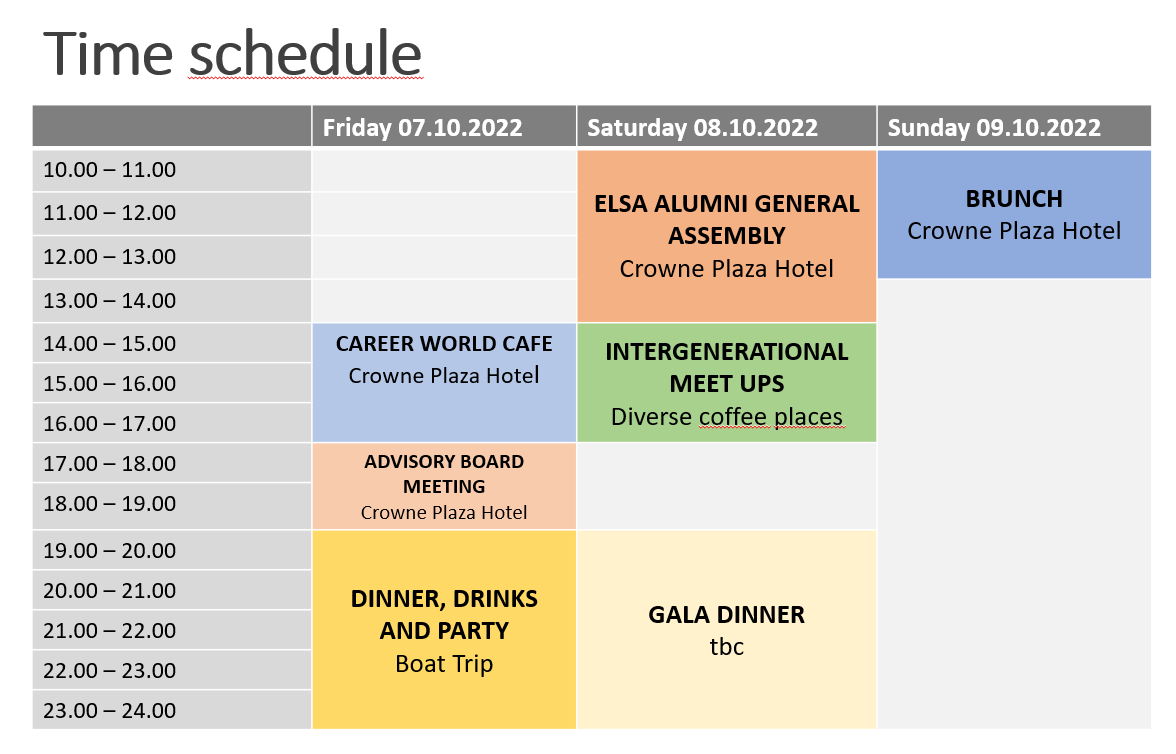 Accommodation
Crowne Plaza Hotel Bratislava is our meeting hotel. Sunday brunch will also be held at this hotel. Each participant makes and pays for their own room reservation. Please use the link for the booking as provided next to the Registration form down below. ELSA Alumni takes no responsibility for the accommodation costs. A limited number of rooms are available at Crowne Plaza Hotel Bratislava until 08 August. Prices for ELSA Alumni are: Double room 119 EUR/night and single room 99 EUR/night, including full breakfast. For special requests please contact the hotel directly.ELSA Alumni hereby informs its participants that a credit card number or deposit will be required to guarantee their reservation for the hotel.
Cancellation policy (for guests):
- Reservation may be cancelled free of charge 14 days prior to arrival;
- Cancellations in less than 14 days prior to arrival or No Shows are subject to a 100% cancellation fee - full length of stay;
- Late arrivals and early departures must be informed at least 3 days prior to the requested date of earlier departure; after this deadline a 100% cancellation fee applies.
Reservation:
STEP 1 – choose the dates (7th-9th October)
STEP 2 – select number of adults and number of rooms (search)
STEP 3 – select type of room
STEP 4 – fill in the guest information and credit card details (book reservation)
ELSA Alumni General Assembly
ELSA Alumni General Assembly is the highest decision-making body of the association and members are welcome to attend. On the agenda are elections of the new Board of Directors as well as budget, strategy and future action plans of the alumni association. Location: Crowne Plaza Hotel Bratislava, Room Rome
Social Programme
Bratislava is a lovely city on the beautiful blue Danube, arguably the most important river in central Europe. And no, the river was not named after Johann Strauss' waltz. It was the other way round. It is said that Strauss composed the first melodies of his famous waltz in Bratislava in 1852. The river has long been of the utmost importance to Bratislava. In the first century, it served as a border of the Limer Romanus, protecting the Roman Empire from barbaric Germanic tribes. Later it helped protect the city from Tartars and Turks. Nowadays the Danube serves as a national boundary between Slovakia, Hungary and Austria. Now having talked so much about this beautiful river it is meant to be included into our program. Friday evening we will go on a boat trip! You are invited to have an exchange of generations, nations, and positions while cruising over the river and enjoying the lovely landscape while doing so. Once we are back at the port, the boat will be transformed into our party location. We are looking forward to an joyful mood, informal conversations with old and new friends and, above all, a get-together at eye level. There will be fingerfood and drink vouchers provided. Saturday evening is the time for our Gala Dinner.
Contact & Terms and Conditions
For general questions regarding this event, please contact Katja Schager, via email at katja@elsaalumni.org.
For questions regarding invoices and finance, please contact the Treasurer of ELSA Alumni, Maria Fernandes, via email at treasurer@elsaalumni.org.
All registrations must be paid in full at the time of registration. Cancellation is possible until 31 August 2022 against a full refund of the participation fee. After 31 August 2022, if you cancel your attendance the participation fee is non-refundable.
In case ELSA Alumni is forced to cancel the event due to force majeure / COVID-19 lock down in Bratislava that makes the organisation of this event impossible, participation fees will be refunded with the deduction of costs that ELSA Alumni has already occurred in connection to the organisation of this event.
This event will comply with all applicable Slovakian COVID-19 security measures, which will be applicable in the period the event is held.
Registrations are now open.